JUNE - AUGUST 2003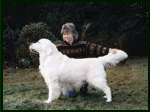 ANOTHER BRIEF DIGRESSION FROM KELLIE:
Molly Brown, a lovely lady who until recently lived in Tuczon Arizona, was a great friend of my illustrious predecessor Queen Bessie, with whom she corresponded during the last years of her (Bessie's) life. Merlynn, a young female, joined Molly and her family about six months before I was born, having herself been born at Issel Hoeve in The Netherlands. (Merlynn travelled all the way to Arizona as a little puppy - in the main cabin of a Delta Airlines jet, no less.) Last year, Molly and Merlynn were joined by a young male puppy named Morgen, who was also born at Issel Hoeve. Collectively, Molly, Merlynn and Morgen are known as The M-Cubed Gang, and they are really great friends of ours.
Well, a little more than friends, as it turns out. You see, shortly after I arrived at No 86, our humans discovered that Merlynn and I were related. Can you believe that? Yep, it turns out that we have a common ancestor at the great-grandfather level. That's him at top-left: GB SH CH Jobeka Jasper of Nortonwood to be precise.
Anyway, here's the thing: In early May, The M-Cubed Gang and their Pack Leader and Alpha Female moved to Salem, Oregon to begin a new life there. And, in late May, Merlynn gave birth to five beautiful little Golden puppies - two girls and three boys. I tell you, I'm very proud of Cousin Merlynn, who did a terrific job all things considered.
Kellie & Breeze: With the Stromlo forrest now being history, we had to go slightly further afield for our really serious long walks. One of the several candidates for our adventures was Red Hill, which is only about ten minutes drive from No 86. In some areas of Red Hill, we have to be kept on the leash (which is highly discriminatory against the canine species if you ask us); however, in other areas we can roam around at will.
Kellie & Breeze: Oskar the German Shepherd continued to visit us as frequent intervals. By now he had learned to cool the heavy macho dominant dog thing and to just go with the general flow at No 86. (Basically, that means just letting the resident Golden Retrievers call the shots.) One minor problem with Oskar, incidentally, is that he always commandeers the full extent of the outside bed, leaving no room for anyone else. Tiresome, that.
Kellie & Breeze: Another good spot for a forrest stroll is Oakey Hill, which is within walking distance of No 86 and which we go up quite often. Most of Oakey Hill was burned out during the bushfires and finished up as black as the ace of spades; however, as you can see, it is starting to regenerate quite well. We should probably mention that there have been a few, ummm, incidents involving kangaroos up here - all of them quite unintentional, let us assure you of that. (Don't believe what the Pack Leader tells you about those events. He always exaggerates the extent of our misdemeanours.)
Kellie & Breeze: And then there's Mount Ainslee, a huge area that takes hours to get around, and where the Pack Leader will not let us off the leash at any price. The reasons for that restriction may be apparent from the picture at the right, below.
Breeze: And then again there's Lake Ginninderra, where, you may recall, certain black-feathered creatures are always waiting for an opportunity for a final showdown with Kellie.
Breeze: There are times, we must admit, when we are not especially keen to take our baths. For my part, I have become reasonably relaxed about the prospect of being lathered up, but for Kellie it's entirely another matter, the more so when the lathering up is performed, not by the Pack Leader, but by the horrid Poochmobile Lady. This little video tells the story.