FEBRUARY - MAY 2006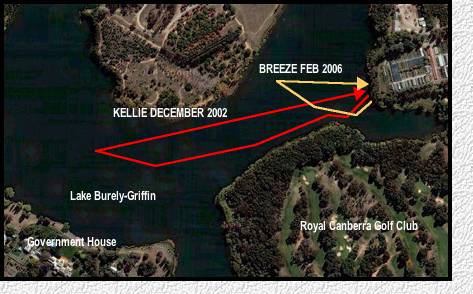 Kellie: Despite all that had gone before, and despite our Pack Leader's valiant efforts to be continually alert and vigilant while my Mum and I were off-leash in the forests or at the river or the lake, we experienced another heart-stopping lapse in late February. (Heart-stopping for the Pack Leader, that is. It was simply a ton of fun for us two Goldens, especially my Mum.)
What happened was this. The Pack Leader and his daughter Sam had taken my Mum and I for our usual Sunday morning swim over at Lake Burley-Griffin, which you may recall was the venue of my epic December 2002 swim in pursuit of an uppity black swan. Well, long story short, the Pack Leader, despite his vigilance, was once again caught out by a bevy of black swans which seemed to suddenly materialize out of nowhere. Two mature birds and two half-grown cygnets.
Fortunately for the Pack Leader, I was on-shore at the time, so he was able to quickly grab my collar and put me on the leash before I had time to react. Unfortunately for the Pack Leader, my Mum was already in the water and soon in hot pursuit of the feathered intruders.
Pretty soon it became apparent that my Mum was not going to give up the chase in the short term. To make matters worse, the swans were leading her right across the lake to the northern side. But there was really nothing the Pack Leader could do. There were no boats he could hail for assistance and no way he could persuade my Mum to turn back, despite his continual yelling. Where would my Mum wind up if she exited the lake on the northern shore? If she turned around anytime soon, would she have the strength to make it back to the starting point? These were the sorts of questions that, by this time, had started to drift into the Pack Leader's increasingly agitated mind.
When the swans and my Mum reached a point about half way across the lake, Sam, who is a very good swimmer, said that it was pretty clear by now that the situation was becoming serious and that she would have to swim across, try to catch up with my Mum, force her to turn around, and escort her back to shore. But the Pack Leader vetoed that idea immediately as being too hazardous for Sam. In any event, it was not long after that that we saw my Mum suddenly look around, as if she suddenly realized that she had done something quite irrational and that she was now a long, long way from shore.
Even when my Mum turned around and headed for home, the Pack Leader remained deeply concerned, knowing as he did that she was a senior citizen now and that she had expended considerable energy fetching sticks before this epic chase even began. But, thankfully, she eventually made it back to shore, emerging from the water with her tail wagging wildly as if she had just had a really enjoyable experience. And, truth be told, she probably had. I mean, there was no aggression displayed between the swans and my Mum, as there most certainly was at the time of my epic encounter. Nope, it seemed to be just four swans and a Golden Retriever enjoying each others company on a leisurely Sunday morning swim.
As for the Pack Leader, well, if he had had a tail, it wouldn't have been wagging wildly like my Mum's. I can tell you that with great certainty. The fact of the matter was that he had experienced yet another nasty scare, courtesy of the resident Golden Retrievers, which was no doubt why he and Sam were very, very quiet on the way home to No 86. Kept telling himself that he was an irresponsible dog-owner and that he was going to have to ratchet up the vigilance factor if he was going to prevent any more incidents like this. Honestly, I don't understand why humans can be such spoilsports. Goldens have a bit of innocent fun, and the humans freak out. Unbelievable.
Yes, as you can see from the map, my Mum's epic voyage was not nearly as long as my effort back in December 2002. However, as I've already mentioned, she was well and truly a senior citizen at the time and had expended a lot of energy fetching sticks earlier in the day. In addition, the water was quite choppy at the time. All in all, I think she did a terrific job, even though this whole episode probably took another two years off the Pack Leader's life.
But, alas, I digress. Back to the main story, and the introduction of a new character as he enters the pages of the Kellie and Breeze saga.
Kellie: And that was it, really. Over to Kellie. My mum just gave her little low warning growl the first time Saybo tried to wrestle with her and, from that point on, he always deferred to her, as if he instinctively realized that she was a dignified elderly lady who was to be treated at all times with courtesy and respect. Think of it: just one little low growl right at the start and the nature of the relationship was set in concrete for ever. Amazing.
Alas, no such luck with me. I mean, the little rascal quickly became absolutely fixated on me, following me everywhere and forever attempting to provoke me into rough-and-tumble play.
Kellie: And then autumn was upon us. Lovely balmy days just perfect for lots of walks with the Pack Leader and Alpha Female, including on the north side of the lake near the Australian National University.
Kellie & Breeze: Trouble is, there's not much opportunity for off-the-leash time over on the north side of the lake. For that, we have to go out into the country a bit. Amongst other things this gives us more scope for exercising that remarkable sniffing device on the front of our little noggins.