JANUARY - MARCH 2011
KELLIE: January is a very important month at our place because that is the month during which my little half-sister Dusty celebrates her birthday. Yes, Dusty is now four years old, and this was the first birthday she celebrated at No 86. Needless to say, we all made a big fuss of her on that day. Strangely enough, she made absolutely no objections to that whatsoever.
So here's the official photograph of my little sister on her big day.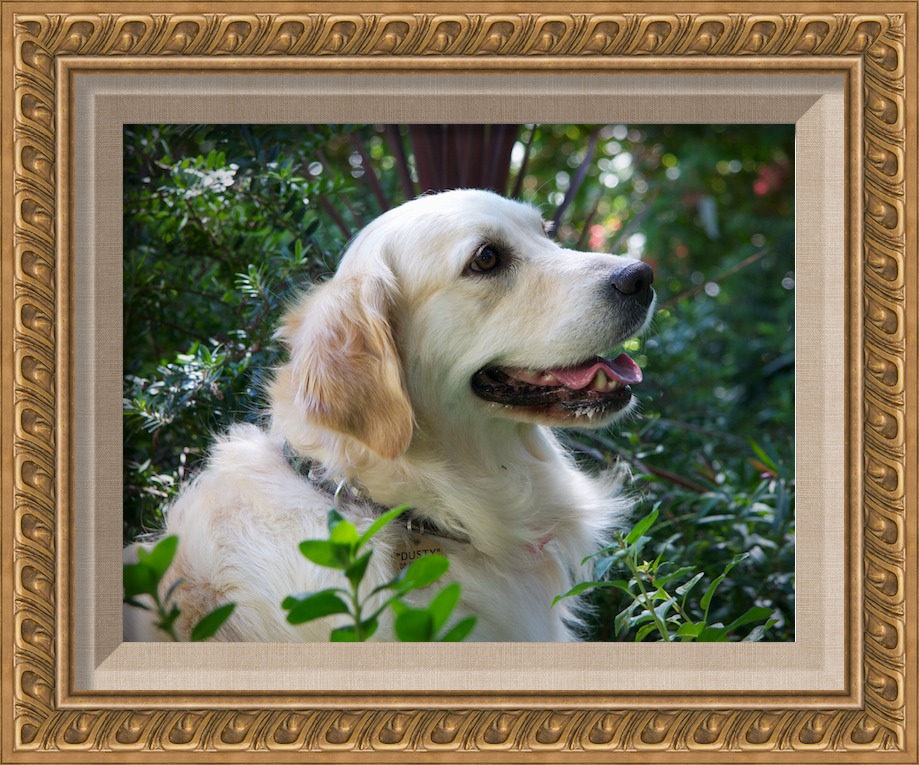 DUSTY: On the first day of February, we drove up to Kangaroo Valley for a few days. The Pack Leader had booked a place called River Bliss way back in September, before Kellie's time of trial, and before we knew that she was about to lose her sight. To be frank, the Pack Leader was of a mind to cancel the booking, given that a book he had recently read had stated that it was highly inadvisable to take a blind dog away from a totally familiar environment. In the end, however, he decided to proceed, figuring that sooner or later we would have to determine whether Kellie could adapt to new and unfamiliar surroundings. If she did not react well, then we could simply turn around and come home again. That was the thinking.
Well, as we should have jolly well known right at the start, it never pays to underestimate Kellie Bricknell. Never ever. As it turns out, she took it all in her stride. For one thing, she seemed to very quickly develop her cognitive map of the interior of River Bliss, and was soon able to navigate around the place quite well. Her steering wasn't perfect, but it was quite impressive nonetheless.
River Bliss is located right on the Kangaroo River in the Kangaroo Valley village. It is built on a very, very steep slope which goes right down to the river far below. This means that, when you look out the living room windows, you get the impression that you are living in a tree house. A top spot, really.
DUSTY: "Well, it's going fine so far," said the Pack Leader, "But will Kellie be happy to go for a swim in an unfamiliar stretch of water?" So there was nothing for it but to descend down to the river to find the answer to that question. Yep, you guessed it, Kellie (the "fish with fur" as the Pack Leader sometimes calls her) jumped right in. Honestly, I don't know how she does it.
The large picture below shows Kellie paddling away under the Hampden Bridge, which was opened in 1898, and which was named after Lord Hampden, Governor of New South Wales from 1895 to 1899. Six days after it was opened, massive floods washed the old bridge away. Pretty good timing, really.
KELLIE: The walk I enjoyed the most was around the showgrounds, where the Pack Leader managed to get some more pictures of Dusty and my good self. You can't imagine how great it was to see all that lovely green grass, we Canberrans having just experienced a decade of unrelenting drought.
DUSTY: Since my big sister was handling it all so well, we decided that we should take her over to the coast to Seven Mile Beach, thinking that she might enjoy a long leisurely stroll along the seashore. And ideed she did, being quite happy to trot along several yards from the rest of the pack, sniffing here and sniffing there. As for myself, well, this was the first time I had seen the big ocean, and I was a bit freaked out by all that white foamy stuff. I was quite happy to walk along the dry part of the beach, but there was no way the Alpha Female could entice me into the briny for a paddle. My attitude is this: nature did not give me gills, and that's got to mean something.
KELLIE and DUSTY: All in all, we had an enjoyable time up at Kangaroo Valley, but eventually the time came to leave. On the way home, we changed the route so as to go via the town of Bowral in the Southern Highlands. Bowral, which is not all that far from our birthplace, is arguably the loveliest little town in the country. It is also famous for being the birthplace of Sir Donald Bradman, universally regarded as being one of the finest cricketers, and certainly the greatest batsman, who ever lived. So naturally we had to pay homage at the local cricket ground which bears his name, and which is adjacent to the Bradman Museum and the recently opened International Cricket Hall of Fame. Trust us on this: to an Australian this is truly sacred territory,
KELLIE: You may recall that, on the Jun-Aug 2003 page, I introduced my dear cousin Merlynn, and explained how we are related. As I mentioned there, Merlynn lives in Salem, Oregon, in the United States. Well, recently, Merlynn entered the show ring at the Salem Golden Retriever Specialty Show and did remarkably well. In the relevant event (Beginner Novice), she was placed first in the division with the highest score of the day at 190.5 out of a possible 200! So she got a blue ribbon for first place, a green ribbon for having a qualifying score, and a Golden Coffee Mug for highest score!
So we'll finish off this page with a picture of Cousin Merlynn taken on her day of triumph by family friend Mr Jerry Vavra. This proves to me once again that looking at a picture of my cousin Merlynn is rather like looking in a mirror.