JANUARY - JUNE 2013
DUSTY: 20 January 2013: six years on the planet and two and a half years at No 86. Another milestone in my life, I guess. Needless to say, I got quite a bit of attention on my birthday, with lots of pats and a few more treats than normal. I'm sure you'll be surprised to learn that I didn't object to that one bit.
Yep, I'm now six years old and looking down the barrel of middle age. But don't expect that to slow me up. If there's a kangaroo or a rabbit to be chased, I'm still your gal. Anyway, first up, here's my birthday portrait, which the Pack Leader managed to snap when I actually stayed still for about two nanoseconds.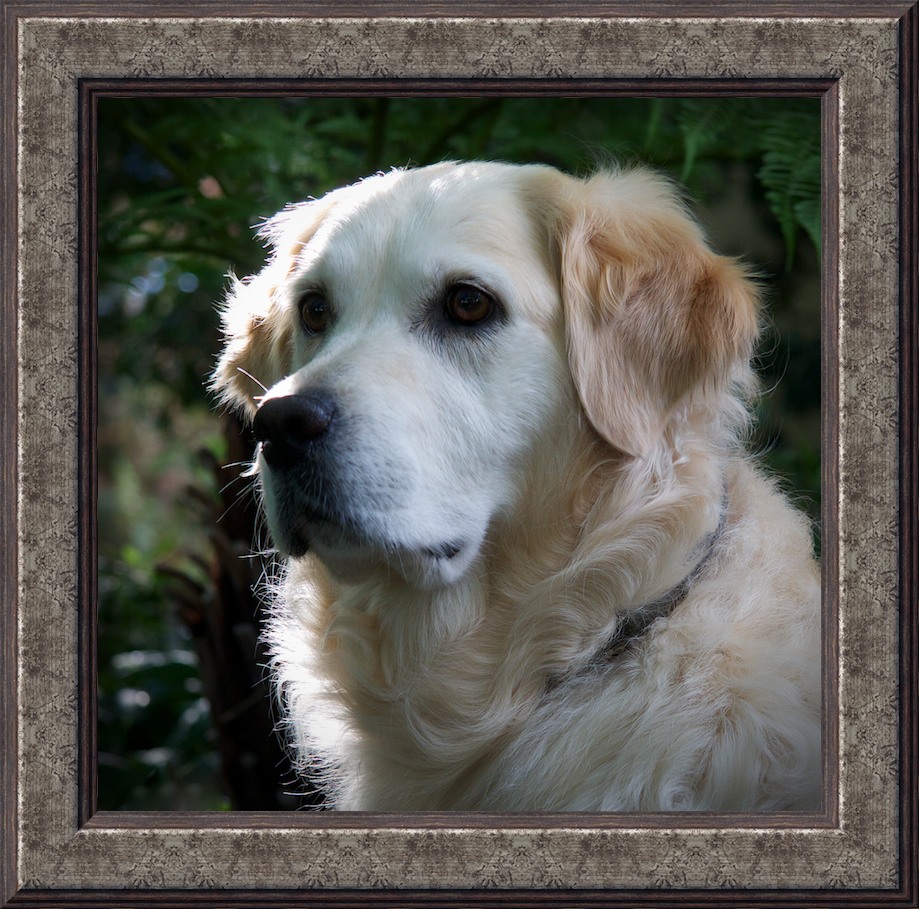 KELLIE: And she's not joking about kangaroos, either. Late last year the Pack Leader was walking her over on a big stretch of grassland to the north of our place. She was off-leash at the time, given that it was just about the last place that the Pack Leader expected to see a kangaroo. Wrong again, because suddenly, in the twinkling of an eye, a kangaroo jumped up from some tall grass about 50 metres away and bounded off to the north towards the new suburbs being constructed on the far side of the Cotter Road. In that same twinkling of an eye, and before the Pack Leader could get to her, Dusty caught sight of the 'roo and took off in hot pursuit. According to the Pack Leader she went from nought to a hundred faster than a Lamborghini Gallardo. I mean, when my little half-sister's blood is up, she really can motor. It's something to behold.
From that point, there was nothing for the Pack Leader to do but watch helplessly as the 'roo led Dusty across the Cotter Road, right in the face of oncoming traffic, and then over a rise and into the area where the new suburb of Coombs and two artificial lakes are being constucted. Huffing and puffing, the Pack Leader arrived at the top of the rise a few minutes later but couldn't see Dusty or the 'roo anywhere. He figured that Dusty would never give up the chase while she had the 'roo in sight, which meant that they could have both been well on the way to Queensland for all he knew.
There was a catering cart a few metres away, so the Pack Leader asked the lady in charge if she would be kind enough to ring our home number if she saw a Golden Retriever coming back over the rise, or anywhere else in the construction area. He then raced home as fast as he could, got in the car and raced over to a big hill north east of Coombs so as to be able to look over the whole area from the Cotter Road to the Molongolo River. Unfortunately, he still couldn't see Dusty anywhere, so he then elected to drive up and down the Cotter Road in hopes of intercepting her if she eventually gave up the chase and retraced her steps. Then, on the way to the Cotter Road, he got a call on his mobile 'phone from the Alpha Female saying that the catering cart lady had rung to advise that she had just seen a Golden cross the Cotter Road heading in the direction of our suburb.
Immediately, the Pack Leader did an illegal U-turn and raced over to Dixon Drive, hoping to intercept her before she crossed yet another road. And just as he turned on to Dixon Drive he caught sight of her in the distance, crossing the road into the driveway that leads to the Woden Animal Hospital. Flooring the accelerator, he managed to catch her just before she disappeared from view again. He pulled up alongside her and opened the door, whereupon she stopped, her tail wagging, and with a look on her face which suggested that she was saying something like "Oh, there you are. Could you give me a lift home, do you think? I've been having such marvellous fun and I'm quite tired out.". The Pack Leader later said that he didn't know whether to whack her bottom or give her a big hug, but eventually settled on the latter as he bundled her onto the back seat for the ride home. Of course that didn't stop him from giving her a jolly good talking-to on the way, but I suspect that just wafted right across the top of her little Golden head.
The Pack Leader, who had become absolutely frantic with worry during this incident, said that we two Goldens were going to be the death of him one day. He's said that many times before of course, given his unfortunate tendency to grossly over-dramatise every minor incident. But, hey, Dusty and I just wagged our tails happily and looked up at him as if to tell him not to be such a tiresome old worrywart and to, you know, like, basically chill out.
DUSTY: It was such a nice day that we all decided to go over to Commonwealth Park for a bit of a stroll, and then to look out over the lake from our favourite park bench.
KELLIE: Being an old lady, I can't walk as far or as fast as Dusty, so when we go for a walk at Commonwealth Park, the Pack Leader and I follow an abbreviated route to that favourite park bench while Dusty and the Alpha Female set off on the marathon. Needless to say, I get to the park bench first, where I just lay down and enjoy the peace and quiet, waiting for Dusty to join me.
KELLIE: And, of course, Dusty will be quite puffed out by the time she joins me, so then we have a rest in each other's company before returning to the motor car for the journey home.
DUSTY: In March we paid a visit to the new arboretum in Canberra. This whole area used to be pine forest, but that was burnt down in the disastrous 2003 bushfires. Rather than replant the pine forest, local government launched a design competition for an arboretum to showcase iconic trees from all over the world. Construction began in 2006, and it is now open to the public. Of course, it will be many years before all the thousands and thousands trees are grown, but it's already a very pleasant place to visit. And, yes, doggies are allowed in, which is very civilised of management in my opinion.
These photos were taken at the top of Dairy Farmer's Hill, looking towards the Brindabellas and to Lake Burley-Griffin.

DUSTY: Little did we know, as we enjoyed the sunshine on that hill that day, that my beloved half-sister and soul-mate Kellie did not have long to live. On the third of July, she seemed to have decided that her time had come, and she quietly slipped away, leaving us all completely devastated.
The photograph below is the last we ever took of her.